What do you bring with you?
The weather can vary drastically during the summer months. We advise you to be prepared for hot days and hot nights as well as cold days and cold nights. Typical Wisconsin days are pleasant, between 70 and 80 degrees Fahrenheit. Nights are generally cool, though some years have stayed very warm.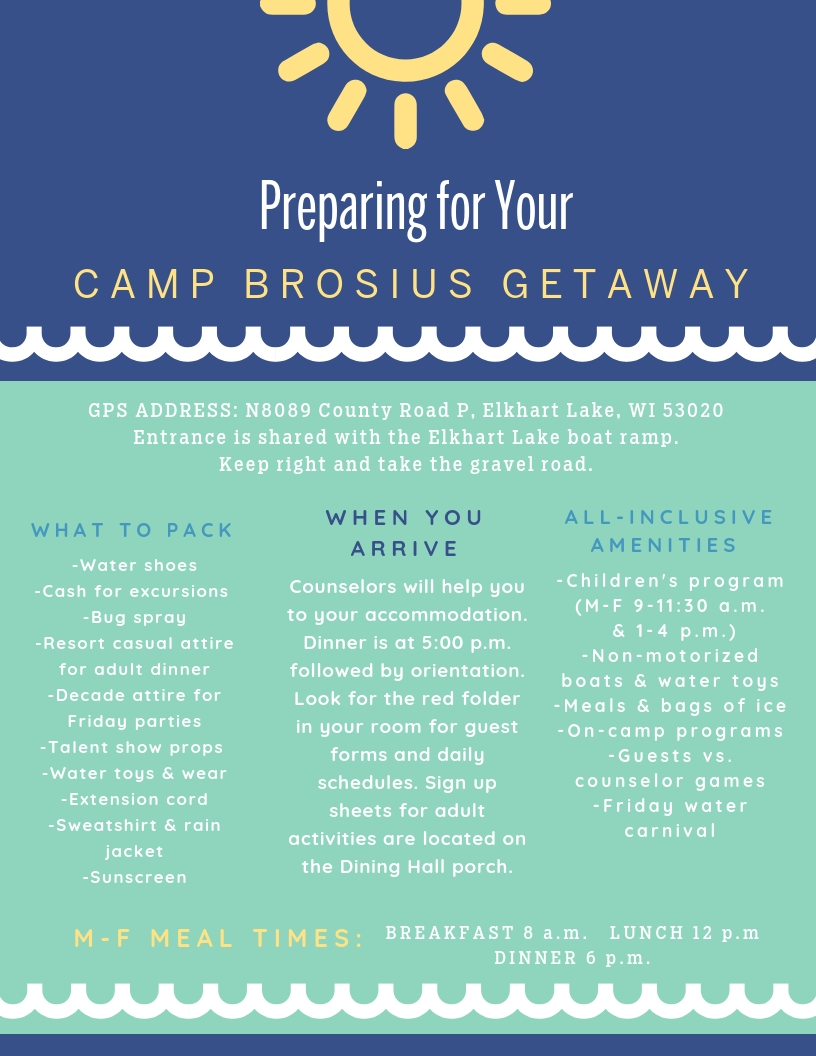 Clothing
Shirts
Shorts
Socks
Undergarments
Sleepwear for hot and cold nights
Jeans, sweats, slacks
Sweatshirts, jackets, sweater
Rain gear
Tennis shoes, sandals, hiking shoes
Dressier clothes for adult dinner
Theme party attire (announced prior to the start of camp via social media and a guest newsletter)
Cabin items
Alarm clock and/or phone charger
Portable fan (accommodations have at least one fan)
Cooler
Flashlights and batteries
Sleeping bags for kids
Extra blankets
Toiletries
Special medications
Insect repellent
Baby bottles, cups, diapers, and other care items (high chairs and cribs are provided)
For cabins and cabent only
Sheets, blankets, pillows and towels
Beachwear
Swimsuits
Towels
Tote bag
Sunscreen
Aqua socks or sandals with straps*
Floaties
*These are required for all guests who enter the water due to zebra mussels
Recreational equipment
Fishing poles
Tennis rackets
Golf clubs
Baseball/softball gloves
Bikes and helmets
Miscellaneous
Talent show acts and costumes
Camera and film
Books, magazines
Board games and cards
Small backpacks or bags for your child(ren) to carry items on lake hikes and boat rides, if necessary (such as sunscreen and towels)
Cash for children's field trips, if applicable (typically $5)
Snacks and beverages for your room
Prohibited items
Pets
Hunting equipment, guns, or other weapons
Fireworks
Air conditioners
New guest?
This will help you visualize the property and guest experiences to help you plan.